DK team in Cologne, Germany
Hey everybody, things, as always, have been super busy. I was in Europe for the whole month of July, and it was seriously hectic. Hitting up Barcelona, Toulouse, France, Holland, and finally the Masters in Cologne, Germany with the DK team. I had all sorts of trouble with my debit card in Germany, and left that country with about $0.35 cents to my name (literally), finally making it back to the States in one piece. A reminder to anyone traveling abroad, tell your bank that you're going overseas beforehand so they don't cancel your credit card. Thanks to Big Ed Docherty for taking good care of me, I owe him some Veggie Heaven.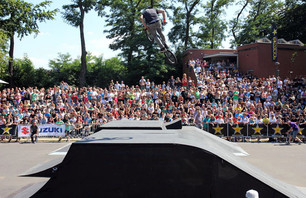 Unknown 180 at the 2010 Masters
Ben Hittle
Ben HittleBack in the States I meet up with Ben Hittle for a day to film some more for his upcoming Props Bio. After that I flew to Props editing headquarters (i.e. Chris Rye's house) in Wisconsin. I chained myself up to a desk for 9 days to work on upcoming segments for Issue 77, Issue 78, and Fuel TV. Yep, that's right, we're working on a new season of Props BMX for the Fuel TV channel. That's means that you'll be seeing Kareem Williams on Fuel TV, god help us all. So now I'm currently headed back to the East Coast to do some work on my own upcoming video project, Anthem 2. I'll be sure to keep you guys posted.
Stew Johnson
Video Magazine Production